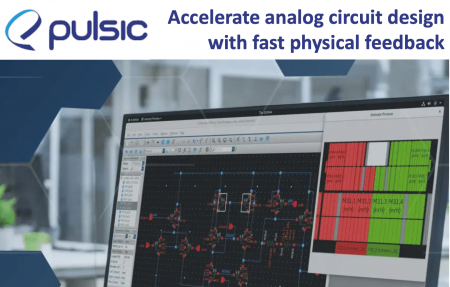 11th January 2022
EDA Solutions Limited to become our Pulsic distributer in Europe, the UK and Israel for the Pulsic Animate product family
EDA Solutions will assume sales & support responsibility for the advanced custom analog design solutions by Pulsic. EDA Solutions is an established and highly respected European software distribution company for analog, mixed-signal and specialist IC design solutions. They differentiated themselves by delivering unrivalled technical support to their customers and have demonstrated enviable loyalty to the products lines in their portfolio.
Pulsic's Animate Preview solution is designed to complement existing design flows, standards, and databases. Today it is a perfect add-on to the Virtuoso™ Analog Design Environment from Cadence® and enables IC designers to reduce costly iterations and optimize their design process and accelerate analog layout. Analog designers can download Animate Preview from https://pulsic.com/animate 
"Pulsic technology is a great fit for analog IC designers. Their technology is a compelling, helping hand which adds time-saving automation to the manual-design methodology which relies on the 'black-art' skill of the physical IC designer", stated Paul Double, Founder and Managing Director of EDA Solutions. 'My company has been working with the IC design community for over twenty years and this has been one of those design challenges which has not been adequately addressed, until now." 
"Expanding our sales team through the addition of such an established IC design solutions distributer as EDA Solutions is a great way to accelerate Pulsic's growth", said Mark Williams, CEO at Pulsic. "EDA Solutions bring a depth of IC design industry knowledge and customer support experience to the table and we firmly believe that they will help our future European customers to achieve design success." 
About EDA Solutions
EDA Solutions was founded in 2001 to provide Europe wide sales and technical support for cost effective yet sophisticated solutions for IC and MEMS designers. Today, EDA Solutions
is the European business partner for IC design solutions of Siemens EDA business and Galaxy Semiconductor Inc. For more information on products and services, visit eda-solutions.com 
About Pulsic
Pulsic is an electronic design automation (EDA) company offering production-proven chip planning and implementation solutions for extreme custom design challenges at advanced nodes. Leading semiconductor companies use Pulsic's physical design software to achieve significant improvements in their design productivity through layout automation using Pulsic's advanced solutions. Complimentary to existing design flows, standards, and databases, Pulsic technology delivers handcrafted quality faster than manual design or other EDA software solutions. For more information, please visit pulsic.com 
### 
Pulsic, Animate and Animate Preview are trademarks of Pulsic Limited. Any other trademarks or trade names mentioned are the property of their respective owners. 
### 
EDA Solutions Media Contact
Pete Davy   +44 1489 564 253   PeteDavy@eda-solutions.com 
Pulsic Media Contact
Mark Waller  mark.waller@pulsic.com