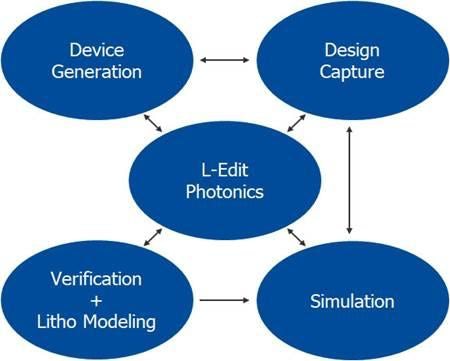 L-Edit Photonics extends the full-featured layout editor L-Edit to support manual layout of integrated photonic designs.
It enables the creation of a design that contains both photonic waveguides and the associated electrical components with a drag-and-drop methodology.
Designers can place optical components from a foundry-provided PDK and connect them with curved waveguides.  Crossings can be inserted where necessary.
L-Edit Photonics precision-snaps waveguides to optical pins to ensure a perfect waveguide to device connection.
Electrical components can also be placed and interconnected.  Once the design is completed, a simulation netlist can be extracted.
L-edit for layout-centric design where a schematic is not necessary. The benefit of this approach is that the physical layout is the "golden" design database.
S-Edit coupled with L-Edit for a schematic methodology.
The tool generates a netlist to use as input into a photonics simulator.
L-Edit Photonics partners with simulation vendors including Luceda, Lumerical, Optiwave, and VPIphotonics™.
Photonic PDKs available from multiple foundries The tool supports iPDK and Mentor-formatted PDKs.
Available on both Linux and Windows.