Welcome
It is our pleasure to welcome you as a customer of EDA Solutions. Our IC design tools from Siemens EDA and Galaxy Semiconductor are backed by highly trained and experienced engineers as well as a variety of resources, to ensure that you are as productive as possible.
We have created this guide to help you become familiar with our support procedures and offerings.
Scope of support
Our support includes, but may not be limited to:
Tool installation & licensing
Tool configuration & how-to
Reporting of potential software defects & provision of possible workarounds
Requesting new potential features & functionality
Requesting new Process Design Kits (PDKs)
Process Design Kit (PDK) installation
---
SupportHub resources
Resources available include the following:
Support Hub
Siemens EDA Support Center
Galaxy Semiconductor Support Portal
Galaxy Semiconductor Downloads Page (FlexNet Operations)
Both of the above portals are explained below.
---
SupportHub
Link: https://www.eda-solutions.com/support-hub/
Multiple users from the same company can create accounts on the SupportHub.
Use your company's e-mail address for registration. Your company Site ID is required.
For Galaxy Semiconductor customers, please use Site ID "GALAXY" upon registration.
This support portal features the following:
Submission of support tickets
Access to technical notes through "Knowledge base"
Access to product information
Submission of Process Design Kit (PDK) requests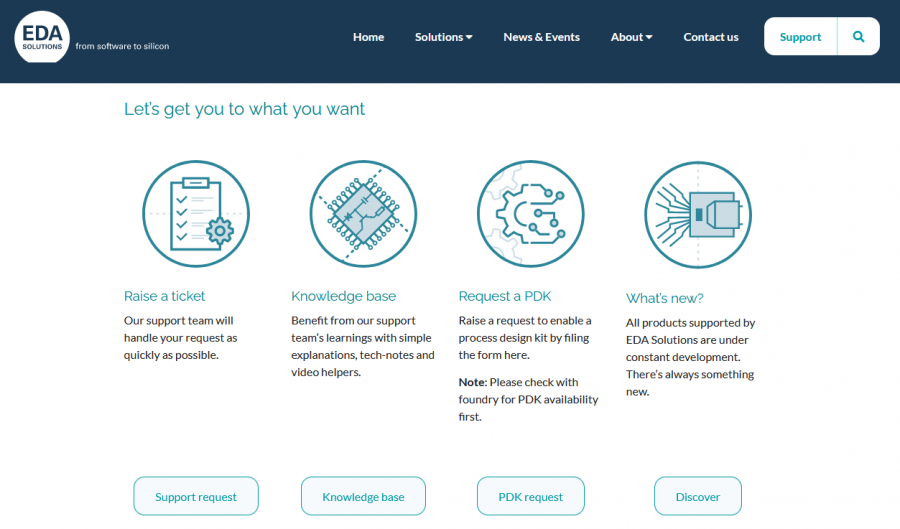 ---
Siemens EDA Support Center
Link: https://support.sw.siemens.com/
As for the EDA Solutions' SupportHub, multiple users from the same company are allowed to create accounts on the Siemens EDA Support Center. Please note however that group e-mails are prohibited. Company e-mail addresses are required for registration.
This support portal features the following:
Access to software installation files
Access to your company's license files
Access to technical notes and user guides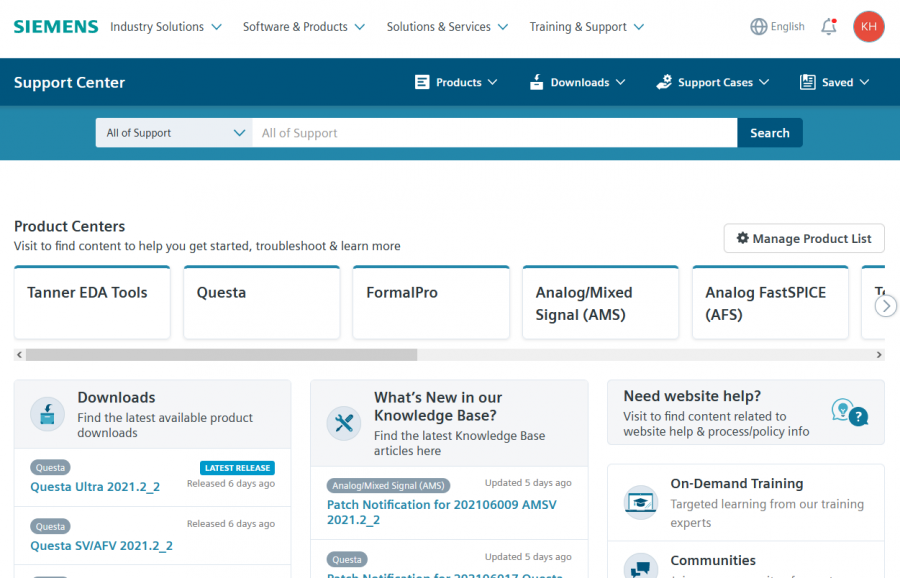 ---
Support Center Registration
Registration and login to Siemens Support Center is quick and easy for new users.
Submit the account registration request form with basic information: First name, Last name, Email, Password, Organization and Country.
You will receive an email to confirm the registration. Please follow the instructions to accept this email confirmation.
You will complete the registration form by providing your Site ID and WebKey Access Code.
If you don't have the Site ID or WebKey Access Code (WAC), click I don't have a Site ID/WAC and select the product you need support for. The Site ID and WAC are associated with your account as part of the registration process after submitting the form. In this case, the registration process requires up to one day.
Note: For the PLM product users, Site ID is equivalent to Sold-To or Server ID.
Invited User
Through Account Center, those with Administration privileges can invite other users at their site to register for Support Center. This makes it easy for others to quickly enjoy the benefits of Support Center.



An email is generated to the invited user that contains the Site ID and the WebKey Access Code (WAC) that will be needed, plus a unique link.
This link takes the invited user to the login page. Once the invited users provide basic log in information, the users may complete their registration on the resulting form, pre-populated with their Site ID, WAC, and other information.
What is a Web Access Code (WAC)?
• It is a system-generated code that is used in a two-factor authentication (WAC + Site ID) to ensure that customers are authorized for the correct site.
• If you don't have your WAC it will take up to one business day for manual registration by the Siemens admin team.
Where can I find my WAC?
• The WAC is included in the 'Welcome' email sent to the Main Contact / Site Admin at the time of order. Please encourage these contacts to share this email to anyone at their site who will need Support Center access.
• The Site Admin can also use the new 'Invite User' functionality in Account Center, which sends the correct Site ID and WAC to the new user.
I don't have a WAC Code?
Follow this link to raise a ticket: https://account.sw.siemens.com/en-US/help/support?a=changeUserSite and provide the necessary information for an admin to authenticate and add you to the site. This option incurs up to a lead time of 1-2 business days till your account is added to your companies site.
---
Galaxy Semiconductor Support Portal
Link: https://support.galaxysemi.com/en/support/home
Receive access to technical articles and FAQs related to Galaxy Semiconductor products. This portal will require registration using your company's e-mail address.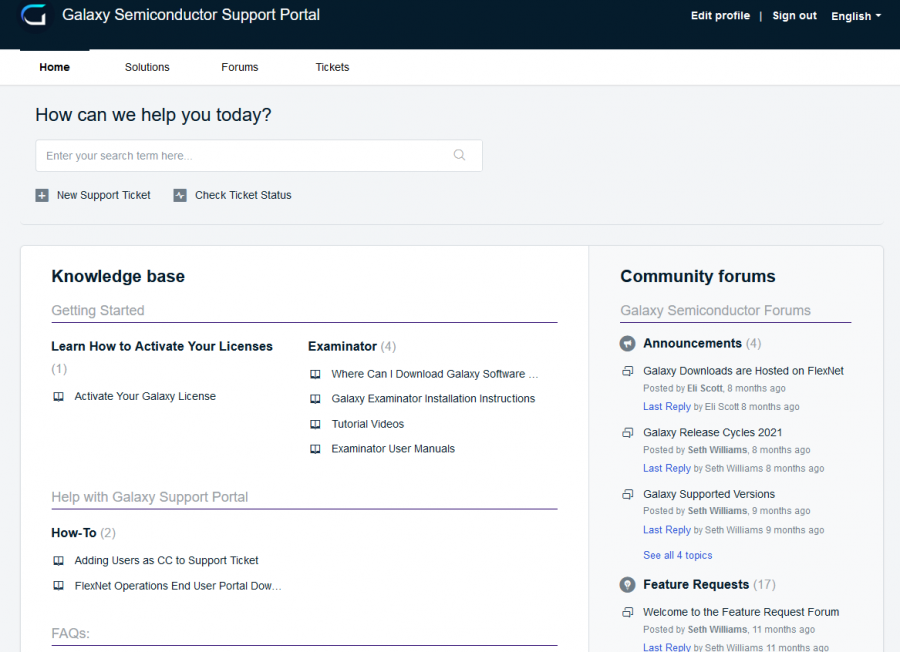 ---
Galaxy Semiconductor Downloads Page
Link: https://galaxysemi.flexnetoperations.com/control/glxy/home
This page is used to download installation binaries of the Galaxy Semiconductor tools. Registration using the company's e-mail is required.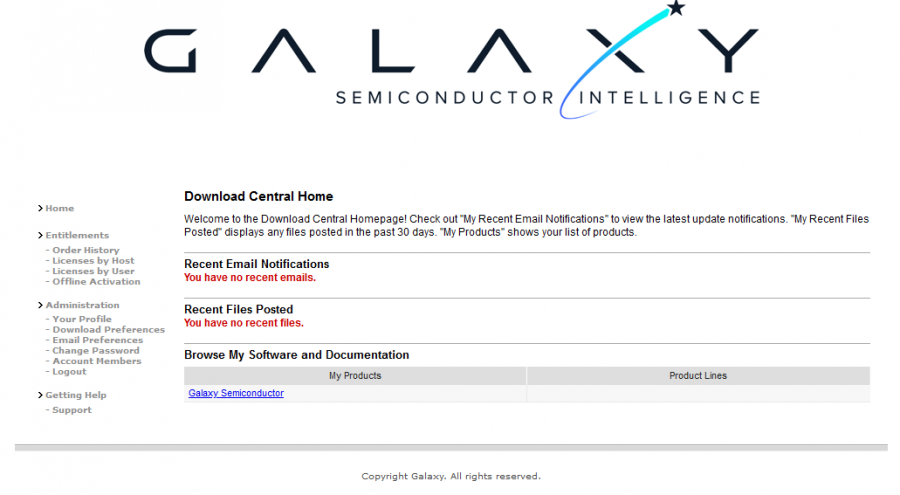 ---
EDA Solutions technical support procedure
Please use our SupportHub to create an account and submit support tickets. The support procedure is shown below.

Please include the following in the ticket description:
For potential defects, please include the symptoms of the problem, reproduction steps and examples where applicable or possible.
For potential feature requests, please include the description of the feature and use model. Feature requests are subject to approval by the factory team.
Once defects have been resolved and/or feature requests have been implemented in future releases, you will be informed of them.
---
Communication methods
Primarily, communication is carried out by e-mail. Net-meetings may be arranged at a convenient time to facilitate screen-sharing and support provision. Phone calls can be arranged where appropriate.
---
Requesting Process Design Kits (PDKs)
Provided a valid foundry NDA is available, all requests for Process Design Kits (PDKs) must be made via the SupportHub using the 'Request a PDK' link, where PDK information must be provided as accurately as possible using the online form. PDK information needed may include:
Foundry name
Process name and codes
Key dates
Once the new PDK request has been submitted, a member of the support team will follow up on your request. Enablement files will be provided, and installation support and guides will be supplied once the data becomes available.
Note: Please check with the foundry for PDK availability first before submitting the request here as data may readily be available.
---
Staying up to date
The EDA Solutions newsletter is one of the best ways to keep up to date. Please select "Yes, I would like to receive EDA Solutions newsletters" upon registration to the SupportHub portal as shown on the next page.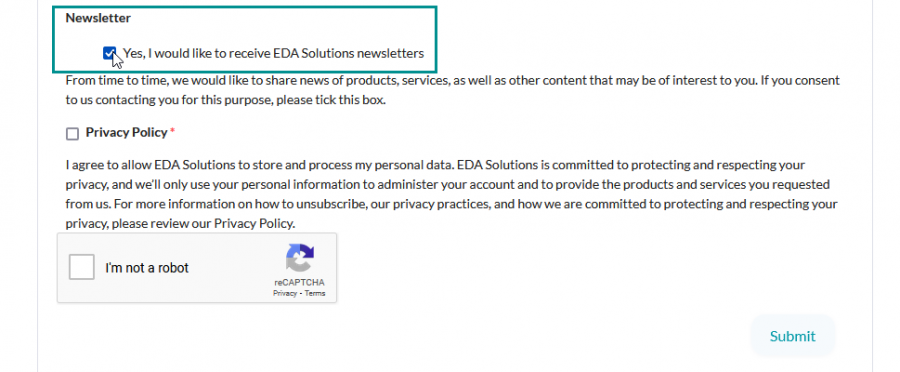 If you missed this option at registration, you could still enable it by logging in to your account settings on the SupportHub by selecting "Account Details", and you should find it under "Profile Details" settings.
---
Frequently asked questions
Q1. I can't see my products or licenses on the Siemens EDA Support Center. How do I resolve this issue?
A1. Please login to the Siemens EDA Support Center and select "Need website help?", then choose "Request website help" button. Please fill in the form to request support from the Siemens EDA Support Center team

Q2. I need to change my license host or lock ID. How do I do that?
A2. Please open a ticket on the SupportHub and a member of the support team will get in contact to assist you with this request.
Q3. Do you provide training?
A3. Yes, training options are available. Please contact your EDA Solutions Account Manager for more details. Our support team can assist you by demonstrating certain how-to and features.
Q4. What software do you use to arrange net-meetings?
A4. We primarily use Microsoft Teams. Other tools can be considered if you are unable to use Microsoft Teams.